OFFLINE REGISTRATION
There are two main ways that your club can register members offline.
Pay Later In Club Option - The membership options that your club has configured is visible and selectable by members and the payment option available is 'Pay Later In Club'.
Manually Register Option - The membership options that your club has configured are only selectable by your club administrators and therefore they will register members on their behalf
---
PAY LATER IN CLUB
If your club offers membership options with a payment method 'Pay Later in Club', you have the option to choose the membership option that best suits you, completing the relevant steps online, before paying the relevant person directly in your Club at a later date.
Once you have completed the membership order online, you or your child will enter a state of 'In Progress' and your club administrator can mark you as 'Paid' and register you at a later stage once payment has been received.
For example, if your club offers a student membership and has selected the payment option 'Pay Later In Club' within the membership option designer, you can select this option and complete the necessary steps. Once submitted, the administrator can then review this membership and click 'Mark as Paid'.
The following steps and screenshots outline the process you as a club member, or parent/guardian of a Member will take to register with your club on Foireann.
Navigate to the Membership Section.
Click on the 'Register' button beside your preferred membership option.
3. There are three steps you must complete when selecting a membership option:
Add Members (which includes you and/or others)

Consent Forms & Code of Conduct

Payment
4. Within Step 1, Adding Members, choose yourself or the family member which this option applies to.
Family members names will appear in the dropdown for selection if a family has been set up.

The number of slots available will depend on how the membership option has been configured.

Not all slots have to be filled out.
5. Click Continue
6. Within Step 2, Consent Forms & Code of Conduct, you are asked to review your information (including medical and consent details) and read/agree to the code of conduct.
You will be able to edit the information listed by clicking on the 'Edit Profile' button.

If the membership option has more than one member listed, the information and code of conduct will need to be reviewed and confirmed for each individual included on the membership order.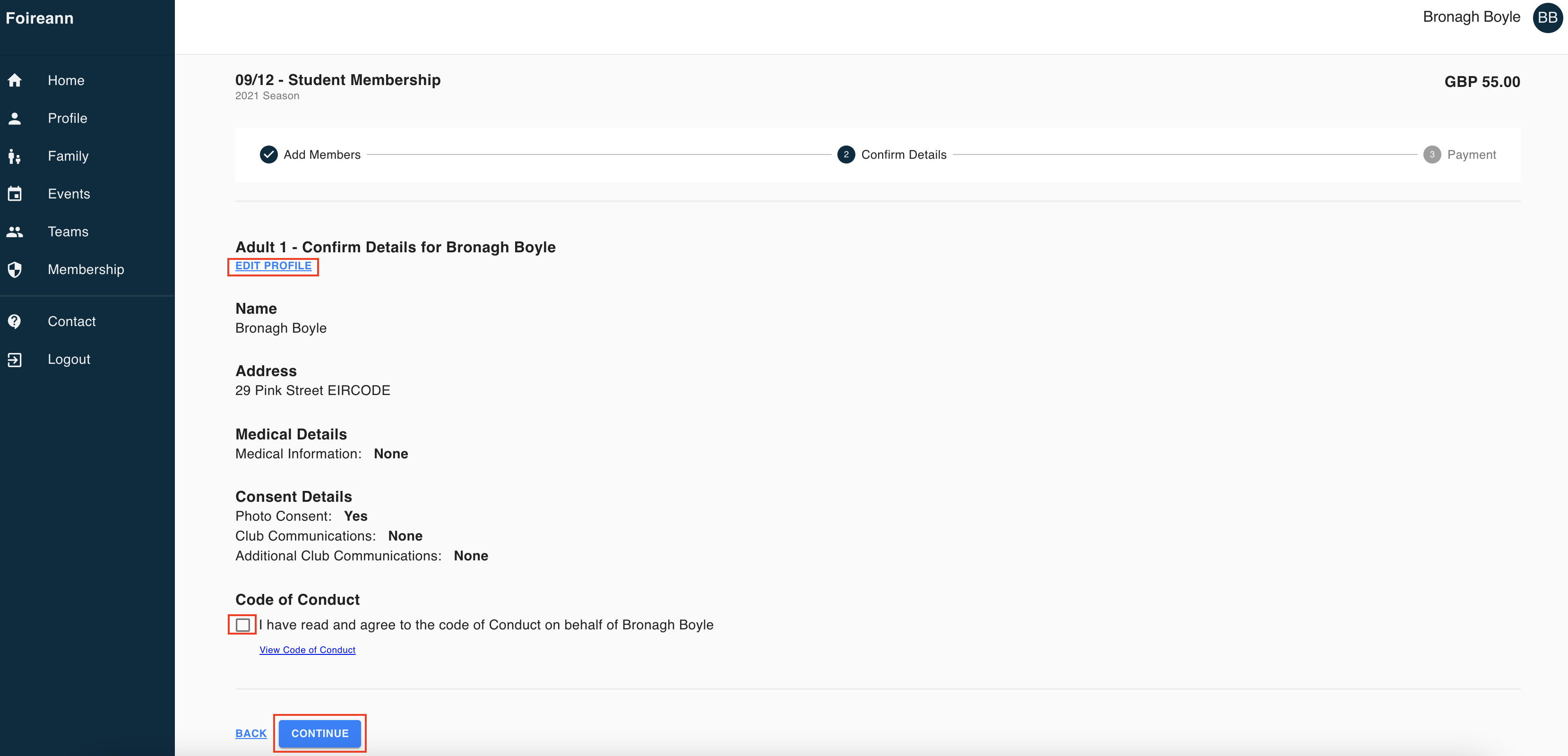 Click Continue.

Within Step 3, Payment, the relevant payment options will be displayed. The payment options listed will be determined by how the membership option was configured by the Club and any offline registration should have an option to pay later in the club.
Click 'Pay Later'. A confirmation popup will appear outlining that you must contact your club administrator to complete the payment and registration.

Click the 'Confirm' button.
Within your homepage, you will be given a membership record for the 2021 season. Until the Club administrator completes the necessary steps on their side, you will have the 'Registration In Progress' status assigned to your record.

Now your club administrator will need to complete two tasks to register you:
Mark your record as paid to the club. This will update your membership status from 'In progress' to 'Fees Due to LGFA'
2. Pay the relevant fees to the County, Province and LGFA Association. Once your administrator completes this final step, your membership status will update from 'Fees Due' to 'Awaiting Approval'
At this stage, your club administrator has completed all necessary steps to register you however the LGFA have to review and approve the registration once paid for by your club.
Once the LGFA has approved your registration, your membership status will update to 'Fully Registered'.
By clicking on the membership listing more information will be displayed including the registration date.
NOTE: Members will only receive an email confirmation of their registration once they have been 'verified' by the Club Administrator.
---
MANUALLY REGISTER
If your club does not wish to accept online payments nor present club members with an opportunity to submit their own registration details online, your club administrators can manually register members on Foireann.
This means that as a member or parent/guardian, your club administrators will manually register you on Foireann and therefore, the only actions that you need to complete will be whatever your club asks of you, i.e. complete and submit a paper Membership Form, pay membership fees via their chosen payment method.