For many clubs, the main cause of duplicate records was the creation of families on Foireann. In the member list, many children records were already listed as they were transferred over from the old registration systems however there was no way for these records to be linked to a family on Foireann. Instead, parents/guardians were advised to create their families from scratch which resulted in additional records for the child to be listed in the member table.
Therefore for many parents/guardians, when they logged into Foireann, the membership/registration was not visible as it was linked to the record which only club administrators could see.
For these scenarios, when merging records on Foireann it is vital that as an administrator that you choose the record which has the family listed as the primary record.
For example, see the screenshot below, both of these member records are for Patrick Wilson. As you can see all the following fields contain the exact same information:
Name

DOB

Address

Account Status

Clubs

Additional Information
The only differences between these two records are the Registration ID, Family and Membership.

For this scenario, as a club administrator, you would select the record which has the family 'Wilson' listed as the primary record. By doing this, the registration ID and Memberships from the other record will be merged into the primary record.
This means that following the merge, the remaining record for Patrick on Foireann would state:
Name: Patrick Wilson

Registration ID: 5000992

DOB: 23/8/2004

Address: 1 Cherry Lane

Account Status: No Account

Family: Wilson

Clubs: Portlaoise GAA

Memberships: GAA, 2021 - Youth (Playing) paid

Additional Information: Male, +35300000000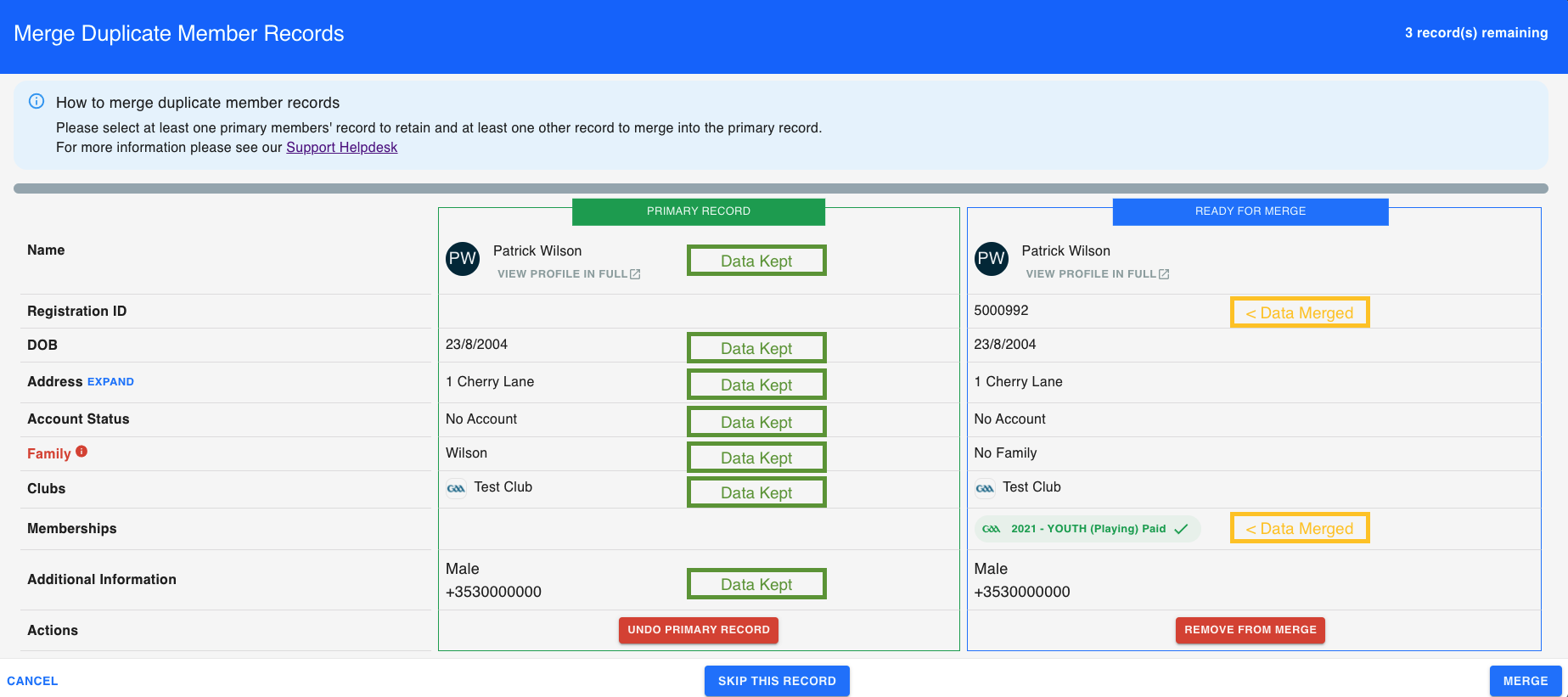 Patrick's record before the merge, when logged into Foireann as Patrick's parent/guardian:
Patrick's record after the merge, when logged into Foireann as Patrick's parent/guardian:
Patrick's record after the merge, when logged into Foireann as the club administrator