Keywords: club's children officer; CCO; vetting; application;
This article will outline how the Club Children's Officer can review and confirm the identity of vetting applicants within their club on Foireann.
When a vetting application has been submitted by a club member, the Club Children's Officer will receive an email letting them know that the application is ready for review.
---
HOW TO REVIEW A MEMBER'S APPLICATION AS A CLUB CHILDREN'S OFFICER?
Please see the details outlined below on the Club's Children Officer can review and confirm the identity of a vetting applicant within their club.
Reviewing the Application
Login to Foireann

Navigate to the

Administration

section within the left-hand side menu.

If you have more than one club listed in your profile, please select the club you wish to assign the Club Children's Officer.

Click on the

Vetting Applications

tab.

Any vetting applications submitted by club members will be listed in this tab for the Club Children's Officer to review.

Click on the

View button beside the application you wish to review/validate.
Review the details of the applicant and the documents which they have submitted. The Club Children's Officer shall review the application and verifies the approved documentation provided to prove the identity of the applicant.

Click

Validate

or

Reject
Rejecting the Application
You must provide a valid reason for rejecting the application. The ID documentation must total 100 or more points to meet the requirements of the NVB and show:

Applicant's name,

Applicant's date of birth,

Applicant's address,

Applicant's photograph.

A signed copy of the Gaelic Games Vetting ID Validation Form is also a mandatory requirement.
If the information is incorrect you as the Children's Officer must reject the application.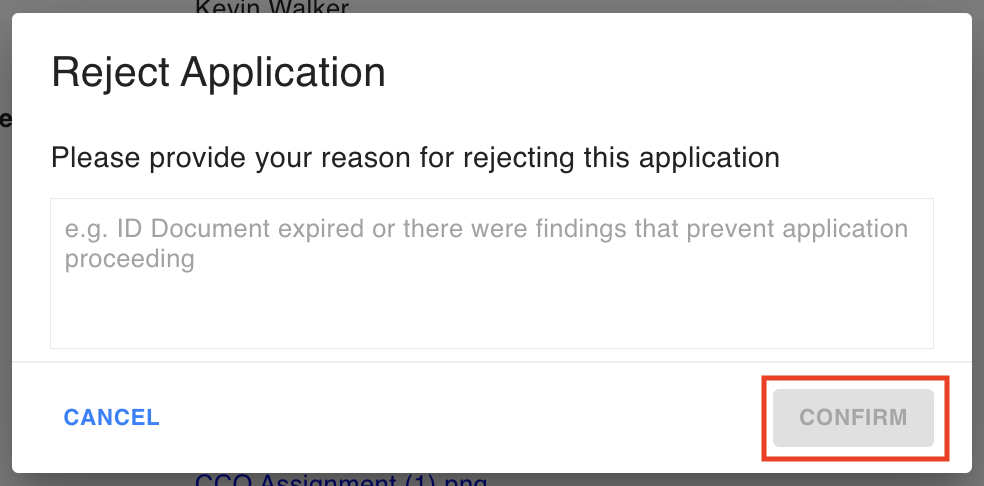 The applicant will then receive an email regarding the status of the application and the reason for rejection.

If the applicant still needs to be vetted, then the applicant will then have to submit

a new application

from scratch if the application is rejected

and upload the correct ID Documents and a signed copy Gaelic Games Vetting ID Validation Form
Validating the Application
You must confirm that the documents are correct.

If the application is validated, the club member doesn't receive an email. Instead, the application is passed on to the

Association Liaison Person.
After validating or rejecting the application, the Status column within the table will update.